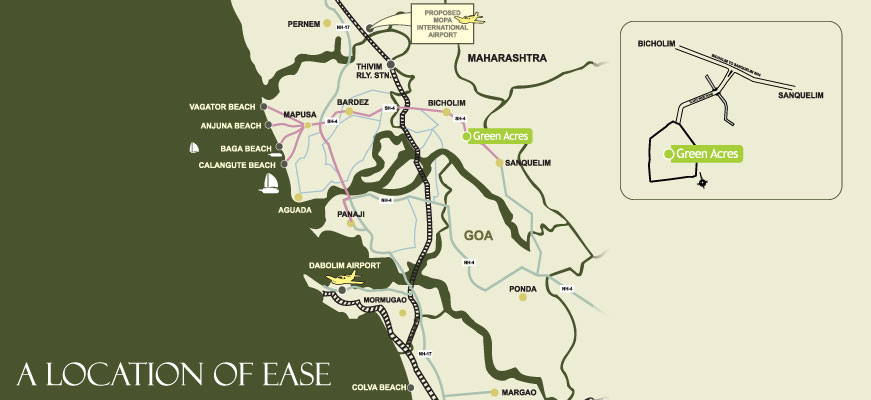 FOR THOSE WHO THINK "SMART INVESTMENT
Real estate cost in major cities in India is rising sharply. This coupled with other woes of city life; it does not make for much investment sense for a second home for people who want it within the confines of a big city. Traditionally, Goa has always been the ultimate holiday destination but in recent times it has also emerged as a prominent investment destination in India owing to its reputation. The sentiment is upbeat among Indian people too who want to invest in a retirement home or otherwise. The return on investment in a project like Green Acres is promising in the long term owing to its location and quality of life that it offers owing to its latest amenities of comfort and convenience.
Green Acres gives you that opportunity to make a wise investment decision owing to the numerous benefits of location, proximity and the ambience, which it provides to a prospective homebuyer. Green Acres can be ideal investment destination as well as a retirement home for those who want to spend their retirement in peace and happiness enjoying the modern facilities within a green laid back environment.
Located just 125 meters off the SH-4
Connects to both the NH-17 and the SH-4
14 km away fron Thivim railway station
Panjim 35 minuts and Mapusa just a 25 minutes drive
City Centre of Bicholim and scenic town of Sanquelim within a circle of 5 km
1 hour 15 minutes drive from Margaon – South Goa
50 minutes from Dabolim Airport
15 minutes drive from newly proposed international airport at Mopa
Calagute, Vagatore, Baga, Anujuna and other beaches in north Goa 30 to 35 minutes away by car.
LET GOA ADORN YOUR LIFE
One of the best places to enjoy quality of life in India, Goa is one of the most attractive tourist destinations in the world owing to its diversity, cool attitude and a relaxed lifestyle. Covering a 3702 sq km area, Goa has a 105 km long coastline lapped by the Arabian Sea. Temperate climate, diverse landscapes, wide, sandy, palm fringed beaches, clean waters and an aura of serenity attract many tourists from all over the world.
Languages well spoken in Goa include English, Hindi, Konkani and Marathi.
Goa is pleasant throughout the year and it rains between June and September. Fisheries, spices, hospitality, flea market trade and lodging are primary businesses in Goa which peak during holidays, especially during Christmas and New Year. The state is bordered by Maharashtra and Karnataka and is well connected by rail, road and air from all major cities.
Goa is a popular beach destination which adds to its charm and most tourist attractions are centered around 5 towns namely Mapusa (Well known as Mapusa Market), Panaji (the Capital City), Margao, Vasco and Ponda.
Located around 30km from Panjim, Bicholim, where Green Acres is situated is a city and a municipal council in North Goa district.
With mining being the mainstay of the economy of the place, Bicholim is replete with Opportunities in education as it has three primary schools, four secondary schools and a a polytechnic institute. There are a number of hospitals and healthcare centres, temples, churches and mosques, and a protected site,Pandava caves seeped in history and enigma.
Bicholim has an idyllic landscape interspersed with serene lakes and majestic waterfalls. The tranquil Mayem lake is a major tourism destination in Bicholim. Located amidst rolling hills and surrounded by a countryside, the lake is one of the most pristine nature spots in Goa. The Goa Tourism Development Department has developed a boating area and a resort here.
The Arvalem caves, also known as 'Pandava Caves,' are ancient rock cut caves dating back to the 5-6 century. These are excavated into the laterite hill consisting of two major chambers and a residential chamber. The cave complex draws tourists and archeologists alike. Next to the Arvalem caves down the lane is the Harvalem waterfalls situated closer to a Rudreshwar Temple. It is a picturesque waterfall with a viewing spot under construction by the Goa tourism Corporation. This makes Bicholim a feather in the cap of Goa and Green Acres is situated in the heart of Bicholim.